April 20, 2012 – 12:22 pm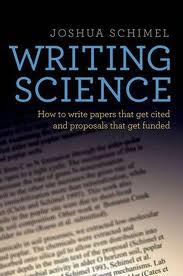 Our lab group just finished reading this book by Josh Schimel. We read two chapters a week and discussed them, which was a nice pace for absorbing the material. It's easy to read, but there is so much good advice that it's nice to have time for it to sink in.
Overall, the book is fantastic. It feels like a secret weapon. I can't recommend it enough for any science writer at any stage. At the book's Amazon page, I felt similarly to this reviewer:
I have 70 published papers in international, peer-reviewed journals; and I want to go back to each and every one of them and rewrite them with the messages from this book clear in my head and clear to the reader.
Fortunately I found the book earlier than this guy, but I am also eyeing my past papers and realizing how I could have made them much better.