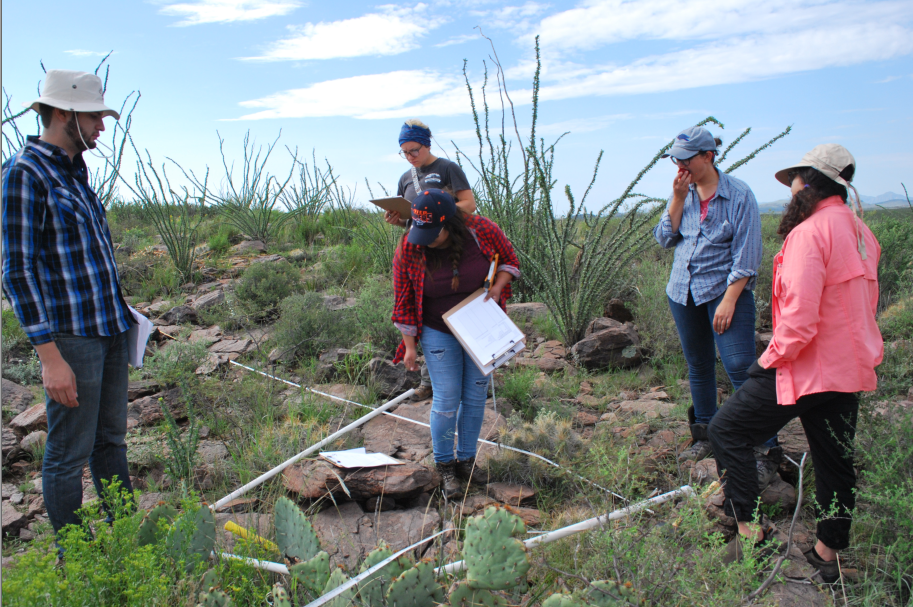 WELCOME
Greetings prospective students! I am always looking for talented graduate students interested in earning Masterís or Ph.D. degrees in Biology to join our lab. I am currently planning to advertise several new positions soon, so now would be a great time to start a conversation. If you're interested, please email me at ajdarrouzetnardi@utep.edu. Inquiring about graduate opportunities via email is a key part of the process. Here's a great guide if you're not sure how to approach this.
DEGREE PROGRAMS
I accept and advise students in two Ph.D. and two Master's programs. If you're not sure what would be best for you, I'd be happy to help you figure it out.
1. Ph.D. in Ecology and Evolutionary Biology
2. Ph.D. in Environmental Science and Engineering
3. M.S. in Biological Sciences
4. M.S. in Environmental Sciences
INCLUSION
Inclusion is a core value in my lab group and we have a track record of being a team that includes many students from backgrounds that are traditionally underrepresented in science such as first-generation college students, women, and minorities. Being at UTEP, we naturally have many Mexican-American, Mexican, and other Latinx students who have been major contributors to all lab projects. I also strongly support women in the lab and in science. For example, two graduate students in the lab started separate pods of the 500 Women Scientists group in two different cities. I love it when students do stuff like this and I support such activities in any way I can. If you are a member of an underrepresented group, please be especially encouraged to apply, or just reach out for career advice.
LAB FOCUS
Our lab studies how environmental changes affect ecosystems from the Arctic tundra to the Chihuahuan Desert. We also do basic scientific research on how these ecosystems function. Our work crosses several subdisciplines in ecology including biogeochemistry, soil ecology, plant ecophysiology, and global change. These fields are currently undergoing a transformation in methods, which will allow you as a student to make a true contribution to the exploration of a vast frontier of knowledge. Studies of soils in particular have historically been limited by frustrating and difficult-to-use methods, but that is changing right now. With access to new data-rich methods and instrument advances, we are now getting a firsthand look at how plants, soil organisms and the soil matrix interact.
FUNDING
Graduate school in STEM fields, including ecology, is not like other professional training programs that require large amounts of investment and debt. You will be employed as a research or teaching assistant while you work on your thesis research project, earning a modest but livable salary. There are also opportunities to apply for fellowships such as the National Science Foundation's Graduate Research Fellowship Program (NSF GRFP) for which UTEP students have proven quite competitive. If you are interested and qualified, I will help you with your applications for these types of programs. The lab currently has one major National Science Foundation grant and several more incoming in the next year. I will continue to apply for such funding to support your work. In all grant applications that I submit, I include funding for student salaries and research projects. In summary, there are many financial support possibilities including teaching assistantships, fellowships, and research assistantships that are supported from my startup funds or from external grants.
QUALIFICATIONS
I'm generally looking for smart, motivated students with a solid transcript showing your ability to perform well in science courses: biology and chemistry in particular. The following ancillary skills can also be really helpful and help you make a niche for yourself, though are not required: computer programming, statistics, bioinformatics, web design, graphic design, handywork.
That's it. Please don't hesitate to contact me if you have questions: ajdarrouzetnardi@utep.edu